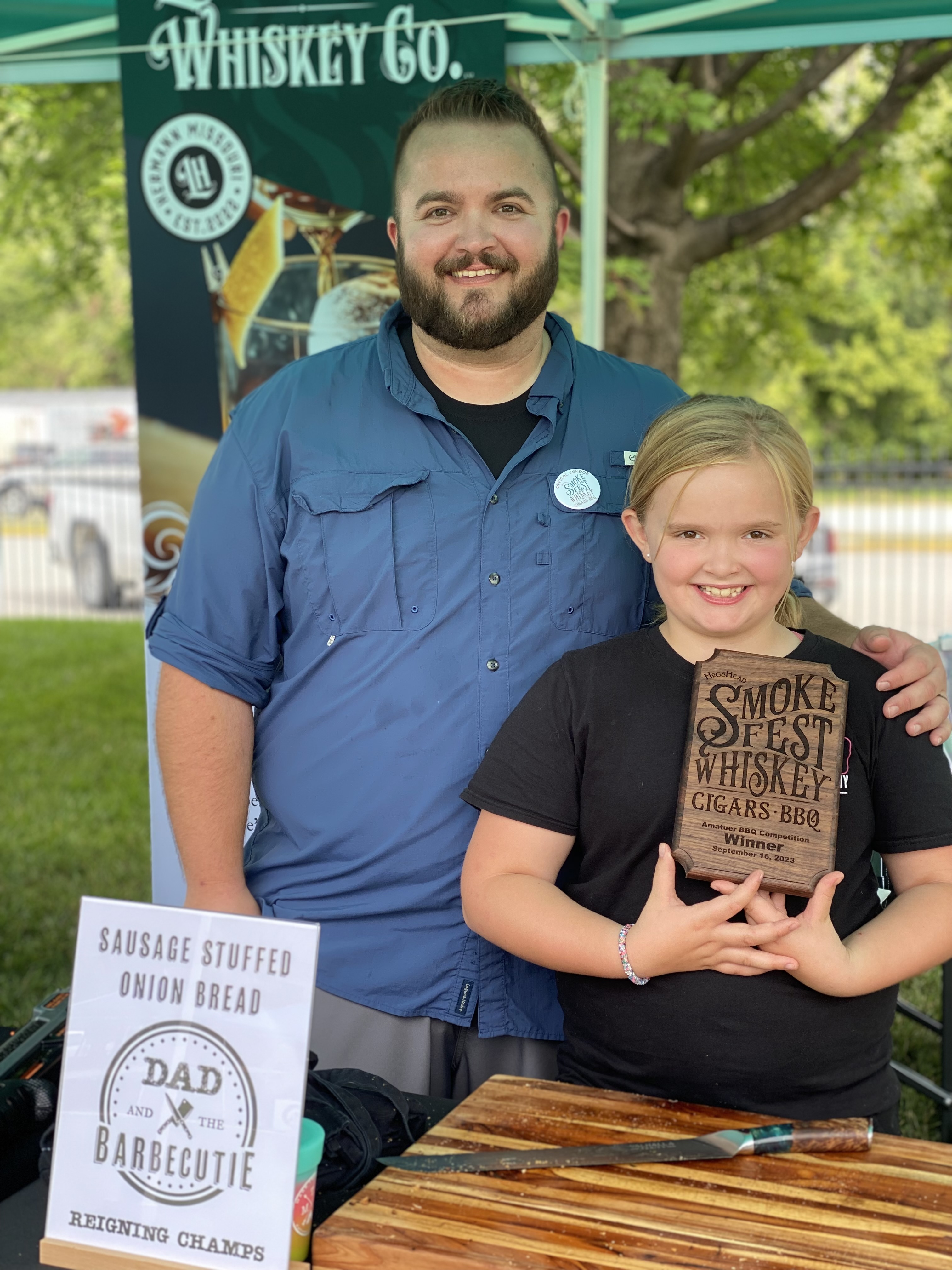 We recently defended our title as "Dad and the Barbecutie" at the 2023 HogsHead Smokefest, and we're still savoring the sweet taste of victory. For those who've been following our journey, you might recall that last year, we clinched the first-place title with our mouthwatering Pork Shots. It was a proud moment for us, and it's safe to say that we enjoyed a friendly competition for charity. So, naturally, we couldn't resist returning to the Smokefest this year, determined to defend our crown.
The Winning Recipe: Sausage Stuffed Onion Bread
Our winning dish this year was a true showstopper—Sausage Stuffed Onion Bread. This delectable creation was a fusion of smoky, savory, and cheesy flavors that had the crowd asking for seconds. It was inspired by this video from Jordan @FireFoodFamily on TikTok. Here's our spin on this delicious recipe:
Ingredients:
Fresh Baked Ciabatta Bread
Onion Butter with cilantro and Italian parsley
Caramelized bell peppers and onions
Sliced Munster Cheese
Jalapeño Cheddar Brats
How to Prepare:
Begin by cutting the top off the ciabatta bread and carefully digging out the soft middle, ensuring the sides remain intact to create a bread loaf "dish."
Coat the inside of the bread loaf with a generous layer of onion and herb butter.
Smoke the prepared bread loaf for 30 minutes at 165°F, infusing it with a delightful smoky essence.
In a separate pan, sauté thinly sliced red and yellow bell peppers and white onions in olive oil, adding a touch of the onion butter, until they caramelize to perfection.
Spread a thin layer of the caramelized pepper and onion mixture in the bottom of the bread loaf.
Add slices of Munster cheese to create a gooey, cheesy layer over the peppers and onions once heated.
Slice the jalapeño cheddar brats, removing the casing, and strategically position them inside the bread loaf until it's evenly stuffed.
Grill the whole masterpiece with the brat-side down at 425°F for approximately 18 minutes or until the sausage reaches a mouthwatering 160°F.
*We're a little extra (in case you haven't noticed)… so we also combined some of the leftover onion butter with a splash of bourbon and some mayonnaise and topped the samples with the Bourbon "Aoili".
The Verdict: A Crowd-Pleaser!
The result? A flavor explosion that impressed both attendees and our loyal fans. We won first place by just two votes, a testament to the deliciousness of this creation as well as the skill of the competition.
We want to thank everyone who came out to support the event and sample our award-winning dish. Your enthusiasm fuels our passion for great food and good times. We can't wait to see what culinary adventures await us in the future!
Until next time, keep sipping on Lionheart whiskey and savoring those summer smoke moments. Cheers!